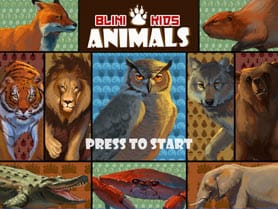 Blini Kids Animals for children 3 to 6 years old. Learn where they live, what they eat, what sounds they do and play minigames with the animals. The best educational app for kids. Improve their memory, hearing skills and reflexes.
Blini Kids Animals is a beautiful application for 3 to 10 years old children, created so they get a better understanding of the animal world in an easy and entertaining way. Every picture in the game is handmade, as if it were an interactive and animated book.
There are two different sections:
Minigames: 6 different minigames where kids can use the knowledge acquired and have fun alone or with their parents. Every game has been created with the help of an expert psycologist to help improving the skills of the kid.
Encyclopedia: Here the kids will learn about the different habitats, what animals live in each of them, what sounds they do as well as interesting facts.
Game Features:
– Handmade drawings: Every animal and habitat has been created by an experienced artist to make the game as realistic as possible, like an animated book with games for all the family.
– 6 Minigames: Puzzle, Cards, Memory, Sounds, Habitats & Logic. Kids can play alone or with parents.
– 8 Habitats: Farm, Home, Jungle, Savannah, Desert, River, Forest, Ocean. Discover the more than 35 animals that live there, their voice, what they eat…
– Amazing original soundtrack created for this game.
System Requirements:
OS: Windows XP/Vista/Win7/Win8
CPU: 1.4 GHz
RAM: 317 MB
DirectX: 9.0
Hard Drive: 101 MB