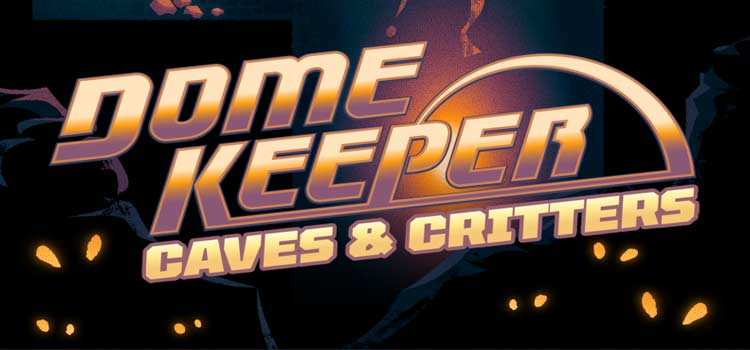 Defend your dome from wave after wave of monsters in this innovative roguelike survival miner, Dome Keeper. Use the time between each attack to dig beneath the surface in search of valuable resources and artifacts – use them carefully to choose powerful upgrades and bonuses. Set on beautifully crafted pixel art alien planets, Dome Keeper offers a captivating atmosphere, music tracks fusing melodic and synthetic creations together with a sense of wonder meeting the jet age that makes you want to come back for more.
Dig
Drill tunnels beneath your dome in search of precious materials or to uncover powerful hidden artifacts. Watch the time, you need to get back to the dome and be ready when the next wave of attack comes. How deep will you get this time? How much can you carry back?
Defend
Take control of your defenses to fend off the alien attacks. Air and ground, slow and fast; the attackers must be prioritized and dealt with before they tear your dome apart.
Develop
Utilize your mineral harvest to unlock powerful upgrades: augment your weapons, enhance the impact of your drill, boost your jetpack's max speed, and many other upgrade paths — each of which gives you and your dome the best odds for survival!
One of our favorite parts of being a Keeper comes from that moment while digging when the next piece of buried treasure becomes visible. It could be that sigh of relief from a cobalt deposit to make dome-saving repairs. Then there are the unknown gadgets and the anticipation bringing them back to see what we have found. And then there are caves. Their unexpected rewards add another incentive to mine one more block because who knows what might be there.
Caves hold so many fun opportunities (well, at least only fun ones for now…muhahaha
) that we figured, hey, let's mix it up and add some more fun things to the game. Now, you might ask, "wait, why not make these new gadgets?" Gadgets have multiple elements to them that can be developed in unique ways in the tech tree. This also makes them figure into your resource use decisions.
Caves, on the other hand, are a power up (note to us, quad damage cave…mmm!). When you discover a cave, you get its reward and that instantly becomes part of your moment-to-moment play, while not changing the upgrade path you're on.
So, yeah, four new caves are waiting to be discovered. With the new caves you can
make tunnels in all directions
expand your vision
improve your bedrock scanner to see beyond
unleash a caged squid
While you're down there spelunking away (always wanted a good reason to use spelunk!) you will also find some other new denizens. These critters have been there since before you arrived and they'll be there after you're gone. They won't really bother you, at least, not so far as we can tell. And if you're adverse to them altogether there's an option to turn them off.
There you go, new caves and critters await beneath your dome. Have fun finding them and playing with the new toys. We have more cooking for you before the end of the year along with continued tuning and quality of life updates. But more on that another time…
The Game Includes:
added 4 new caves
added critters, small creatures roaming the mines. They can be disabled via options.
shield can now be overcharged during battle
changed how double laser affects movement speed and damage
improved Assessor movement
smaller Assessor rebalances: spheres reload a bit faster, some upgrades are a bit cheaper, re-arranged some upgrades to access sphere split earlier. Deeper changes will come in a later update, thank you for all the feedback!

improved all icons for Assessor
Assessor now always shoots at full force
Assessor can now pick up things from caves with the pickup button. Not ideal yet, but slightly more consistent.
translated thousands of words across many languages
fixed dome sometimes being destroyed before invulnerability on shield depletion was able to take effect
shield hud now also shows overcharge status and ability duration
fixed last bomb upgrade for sword long stab not having an effect
divers will now spawn again
fixed butterflies only coming from the left side
improved all monster energy projectile sprites
improved resource distribution in maps slightly, in preparation of bigger maps
Minimum System Requirements:
Requires a 64-bit processor and operating system
OS: Windows 7 or newer
Processor: 2.5Ghz or better
Memory: 512 MB RAM
Graphics: Support for OpenGL 3.3
Storage: 500 MB available space