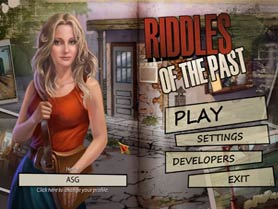 10 years ago, Emily Hanson lost her memory. She cannot remember anything that happened to her before her 20th birthday. Suddenly, a chance discovery awakens her vague memories. Emily travels to the mysterious town of Riverside to search for her past. Can you help Emily unravel a tangled web of love, jealousy, intrigue, and crimes committed by a mad genius?
Find the clues to the secrets of Riverside, the abandoned town without memory. Save your love and avert the catastrophe facing the doomed town!
Game Includes:

• Explore 52 beautiful city locations transformed by the absence of people
• Unusual gameplay elements turn every game setting into a hidden objects scene
• Discovered memories are stored and can be replayed at any time
• Exciting gameplay that immerses players in a mysterious abandoned city
• Uncover the secrets of Riverside!
System Requirements:
OS: Windows XP/Vista/Win7/Win8
CPU: 1.4 GHz
RAM: 514 MB
DirectX: 9.0
Hard Drive: 1.32 GB